Online ZIP Password Recovery
iFindPass is a powerful online ZIP password unlocker that enables you to remove the lost or forgotten passwords of ZIP archives. No matter it's ZIP/WinZIP/7ZIP/PKZIP, iFindPass gets jobs done within a few minutes.
How to Recover ZIP Password?
Step 1: Download and install PassRec.
After download and install PassRec for RAR/ZIP, you will see the screen below: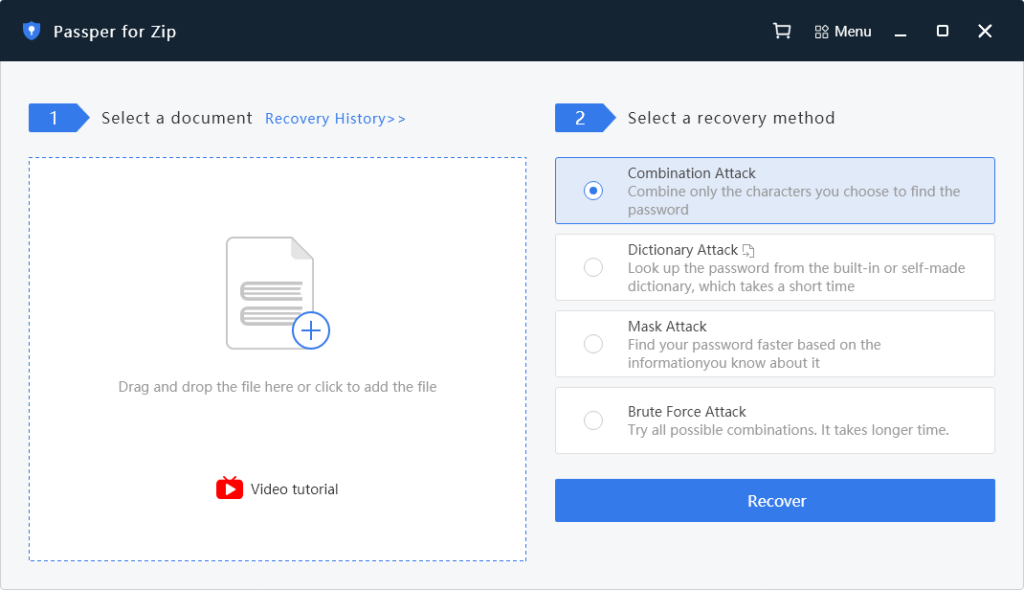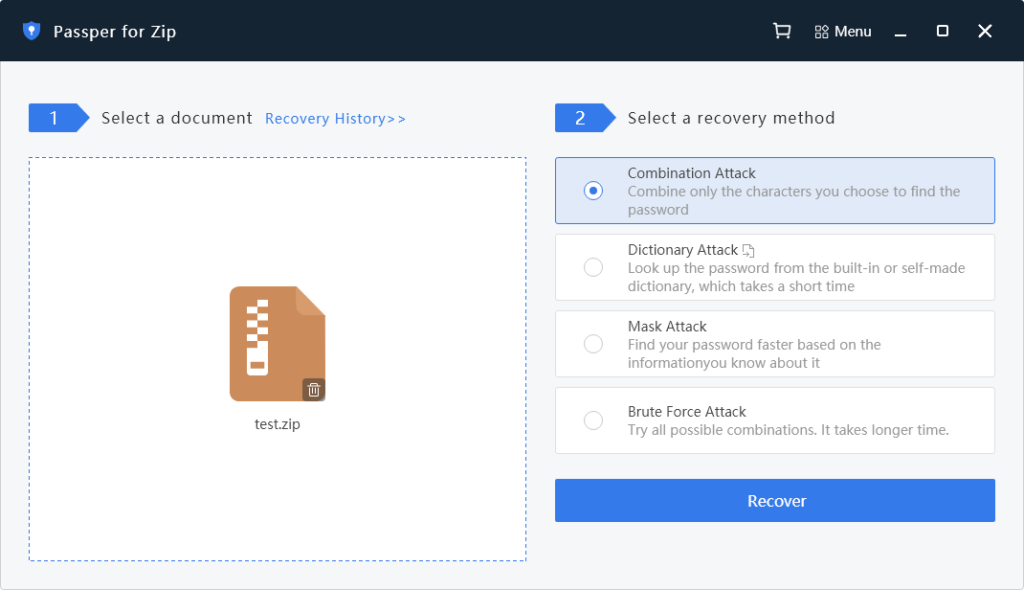 Step 2: Choose the targeted ZIP file and a recovery method.
Drag and drop the password-protected ZIP file to the blank space on the left side, and select a password cracking method.
Step 3: password recovery settings.
Go through a few password recovery settings to narrow down the ZIP password to be recovered.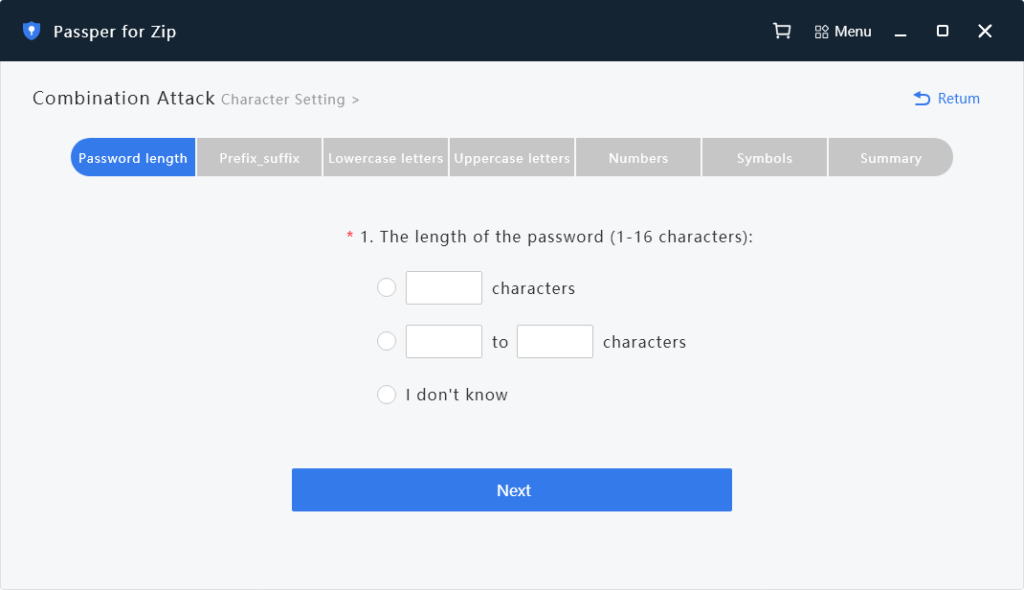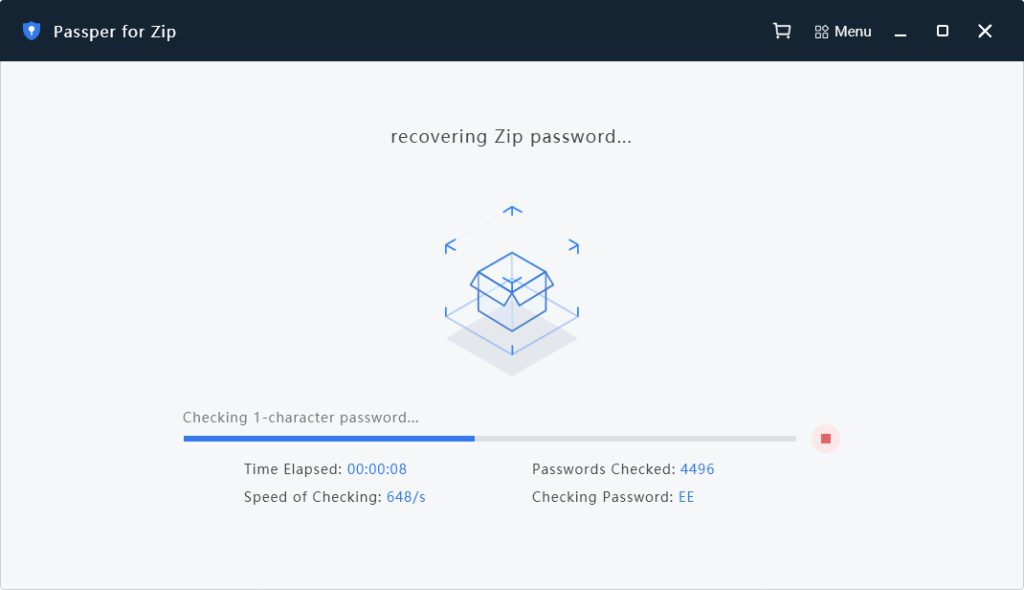 Step 4: Wait for the recovery process to complete.
Password recovery will take minutes, or even hours, totally depending on how many clues you have provided, and how complicated your password is.
Step 5: Successful ZIP password recovery.
You will see the screen displaying the ZIP password that has been recovered.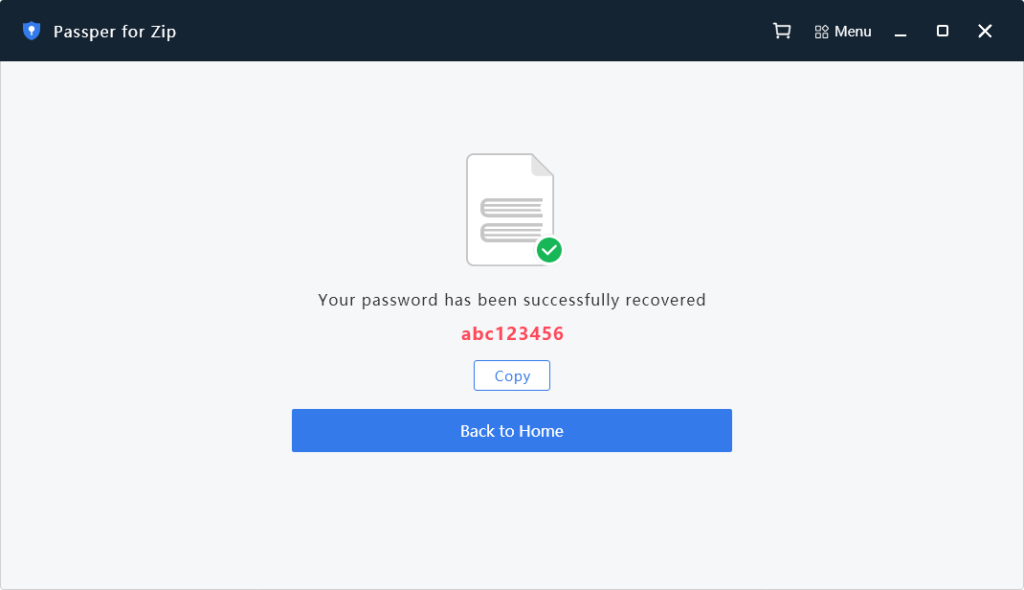 How Do We Recover ZIP Password?
Chances Of Zip Password Recovery
Zip password recovery is a simple process when you have an efficiently working password recovery tool. It is pretty common to ask how many chances will be there to succeed in zip password cracking.

Do you want to know this before starting the process of recovering lost or forgotten passwords? Here is the brief answer to your question that will help you get an idea about success in recovering a lost password.

There is no fixed proportion, but the highest proportion you will get from the best password recovery tool is 60-65%. It means that there will be many chances to recover passwords if you know how to do and from where to do.

Here is the best and free password recovery tool that you can use to recover lost or forgotten passwords. The only thing is you have to learn the working method of this zip password recovery tool. It is an efficient working tool that will increase the success rate while looking for password recovery.

Let's look at this section to understand the working of this zip file password cracker.
Process To Unlock Zip Password Online
There are two main methods to use this tool to open a password-protected file even if you have lost it. The process is pretty simple, but you have to look for some requirements to estimate your success rate.

Many times, a zip file may get locked because of brute force or dictionary attacks. You won't be able to resolve such problems when you have a simple password cracker. But this tool will enable you to open a file affected by brute force or any other threat.

Here are those working methods with which you can get lost or forgotten passwords of any zip file.
Recover Lost Password Using Cloud Services
When you are using cloud services of this tool, you have to follow some specific steps utilizing the internet. These steps are quick and short so that you can complete them only in few minutes.
Crack Password On Our Website
The process of cracking the password on our website is easy. Just transfer the original file to our page, and then the result will be in front of you within few minutes. If the format is supportive of a website, then the recovery process will start instantly.
Check Supported Formats
Sometimes, you will find a problem while transferring your ZIP file into its cloud-based storage. The main reason for this kind of problem is the unsupported format of your original file. To deal with this, you should first check the format of your file.
Then, you have to check whether it is supported by the free zip password recovery tool or not. If this does not support it, you have to change the format and upload it again. There are maximum chances that you will resolve this problem by this simple step.
You can also contact the support of this tool to bypass ZIP passwords or resolve this kind of problem.
Can You Restore WinZip archive On PC?
For retrieving the password of the WinZip archive on PC, you can install the program on your computer and try to restore it on your own. However, good cracking programs have a high cost, and you have to buy a license to use them. Some programs allow you to use it for free but only for a short duration. It means you can recover the password only if you are lucky enough.
Other than that, the whole process depends on the power of your computer. If the power is low, then your password might take months to restore. For example, if the password characters are Latin words, numbers, or unique alphabets, then a powerful gaming computer might take several years.
Furthermore, you can't check all the possible password options on an average PC. The most reasonable way is to find a good database consisting of common user passwords. Unfortunately, no program will provide you with billions of password options.
Not to forget, a lot of malicious programs are used in the name of password recovery software. It's better if you don't waste your time and money on these programs. If you ask for our opinion, then we can't vouch for their correct operation on your PC.
These People Trust Us

Very secure and fast working website. My zipped files are usually confidential files, so it was hard to trust any service. But thankfully, got the right one. I used it many times and got satisfying results, and my data is safe in the files. There once tried another website before, but awfully, got a virus into my device while this site has nothing really to do with my laptop it just helped me recover my password.
– Manuel

I will recommend this website to everyone because of its quick analyzing feature. The crack dictionary process is really quick. But for me, the best thing is the brute forces that work efficiently compared to other parts, so I would recommend going for that one.
– Lucian

Their success rate is high, up to 70 percent, and actually served the purpose. They didn't take any advance payments from me. Highly recommended.
– Honora

This site is amazing. Easy to use, and its steps are uncomplicated. This site is amazingly responsive.
– Jemima
Best 3 ZIP Password Recovery Tools
People often secure their ZIP files using passwords. It helps them protect the files from intruders. However, this security feature becomes a problem when they forget the password.
It often happens when people do not use those password-protected files frequently and save their passwords. They get into trouble if there is an important file compressed in the folder.
After forgetting the password, people try to find various ways to recover it. Fortunately, there are some ZIP password recovery tools that can do the job.
There are dozens of ZIP password recovery tools on the internet. So, it is challenging to select the best tool for the purpose. We have gathered the three best ZIP password recovery tools that can help you recover your password.
We will discuss the pros, cons, and steps of using these tools, so you can easily select the best tool and recover the password on your own.
1) PassFab
PassFab is an amazing ZIP password recovery tool that can instantly recover the password of your ZIP files. It is compatible with all types of ZIP files, including WinZIP, 7ZIP, and PKZIP. If you are a beginner, you should try it as it is simple and fast enough to crack the password.
There are three modes of ZIP password recovery, including Brute Force Attack, Brute Force with Mass Attack, and Dictionary Attack. By using one of these modes, there are higher chances of recovering the password.
It does not matter how long and complex the password is; you can easily recover it by using its powerful modes. In addition, if you remember any part of the password or a few letters, the recovery process becomes easier and saves time.
Steps to Use PassFab:
Step 1: Download and install the tool. It is a paid tool, so you need to buy it to use all its features.
Step 2: Open the tool on your computer. First, you will see an option to add your encrypted file to the tool. After adding the file, you will see the complexity of the password. You will also see three options on the main screen. You can select any of the three available modes. Brute Force Attack offers excellent results, but it takes time.
Step 3: Click on Start. The tool will start the process and recover your password.
2) Passper
Passper is a commendable ZIP password recovery tool that has a high success rate. It can recover your password by using its four powerful modes of recovery. You can try the modes one by one and then finally try the best one, Brute Force Attack.
The best thing about Passper is that it recovers the password without damaging the data of the ZIP file. It offers 100% data security and over 95% success rate.
The Mass Attack of Passper is amazing. It will ask you about the password, and you can convey anything you know. It will find the password according to the provided information.
Anyone can use Passper because of its simple interface and three-step method. After three steps, the tool will start the recovery process and you will get the password.
It works on all ZIP archives, including WinZip, WinRAR, 7-Zip, and PKZIP. It is compatible with Windows 10/8.1/8/7/XP/Vista and works even on low-end PCs.
The problem with Passper is its price. Its one-month plan costs $19.95, and the lifetime plan costs $49.95. It is too expensive if you want the lifetime plan.
How to Recover ZIP Password Using Passper
Step 1: Download and install it on your computer. Keep in mind that it is a paid tool, so you need to purchase the plan to recover the password.
Step 2: Open the tool on your computer. You will see the select file option on the left. Now, select the mode to recover the password. You can start with Combination Attack or any other you think is feasible. If you have no clue about the password, you can choose Brute Force Attack.
Step 3: Click on Next. The tool will start the recovery process, and you will have your password.
3) ZIP Password Refixer by iSumsoft
ZIP Password Refixer is another paid tool to recover passwords of all types of ZIP files. Whether you have lost the password or you don't know it at all, it works in all cases and offers excellent results.
The tool offers four types of recovery modes that can offer 100% recovery results, which means you will recover your password in any case. The best part is that the data remains safe.
You can also pause the recovery process and resume it later. Sometimes, the password is tricky, and you don't know about it. In such a case, you need to pause the process.
Another amazing feature of this tool is the dictionary selection. It has its own dictionary, but it also allows you to add any other dictionary for better results.
The price of this tool is reasonable. You will get lifetime technical support and updates for $19.95 only. It is much better than other tools, but its interface looks too old.
Steps to Recover ZIP Password
Step 1: Download the tool on your computer. After downloading, install it.
Step 2: Open the tool. You will see a simple interface. Click on Open and choose the encrypted file from your computer.
Step 3: Select the recovery type; there are four types available. The tool also offers you to select the length of the password, dictionary, and range.
Step 4: After all, click on Start. Your password will be recovered soon, depending on its complexity.