Online Word Password Recovery
We can recover passwords for any version of encrypted MS Office Word files (doc & docx). Without the need to install software or pay, Word file unlock can be done within a few simple drags and clicks.
How to Recover Word Password?
Step 1: Download and install PassRec for Word.
After opening the program, click Recover Passwords to continue.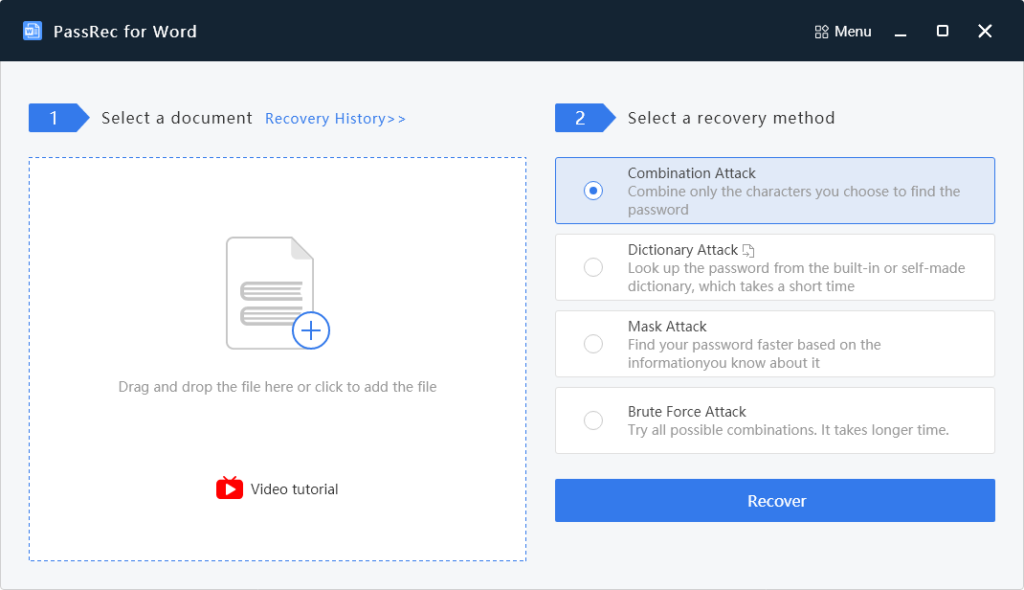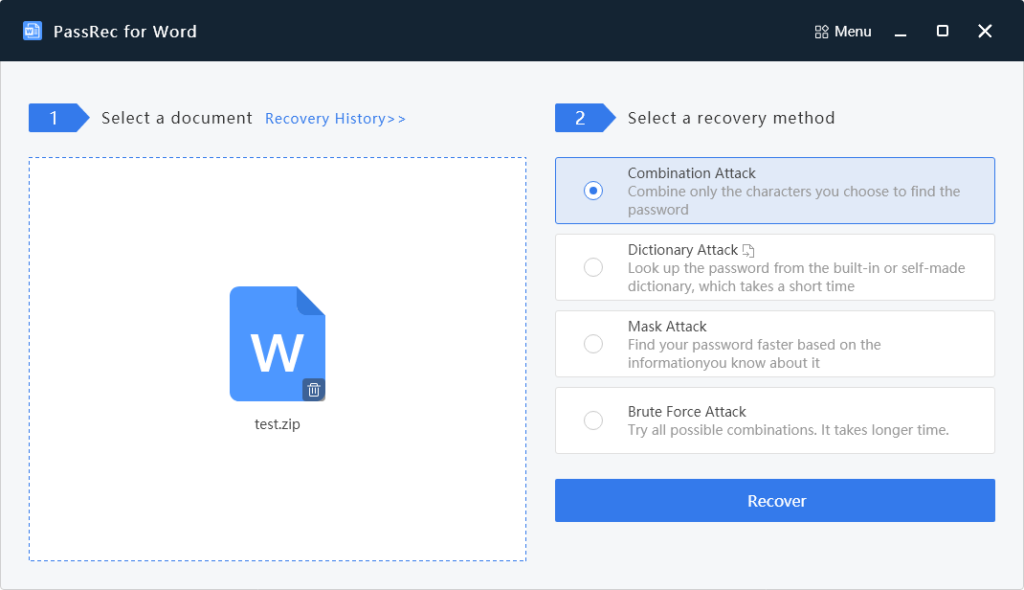 Step 2: Selecting a Word file and a password recovery method.
Drag and drop the Word file to the left, and select a recovery method on the right.
Step 3: Password recovery settings.
You will go through the password recovery settings to narrow down the Word password range. There will be settings on password length, lower case or uppercase letters, etc.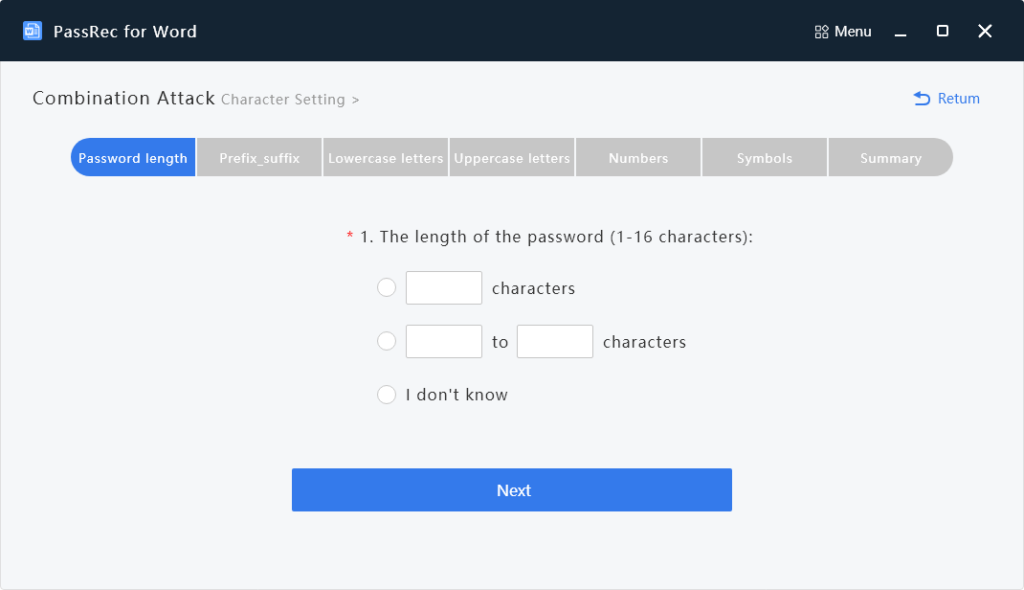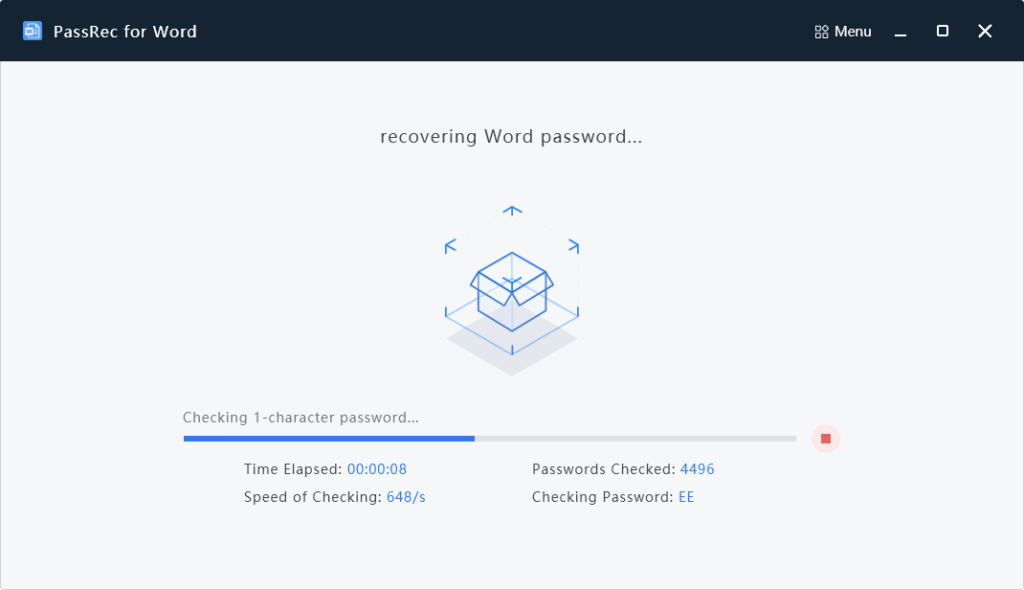 Step 4: Start the recovery process.
The recovery process will start after the settings, and you will wait a few minutes or longer for the process to complete.
Step 5: Password recovery completes.
When the recovery process is completed, you will see the recovered Word password displayed on the screen.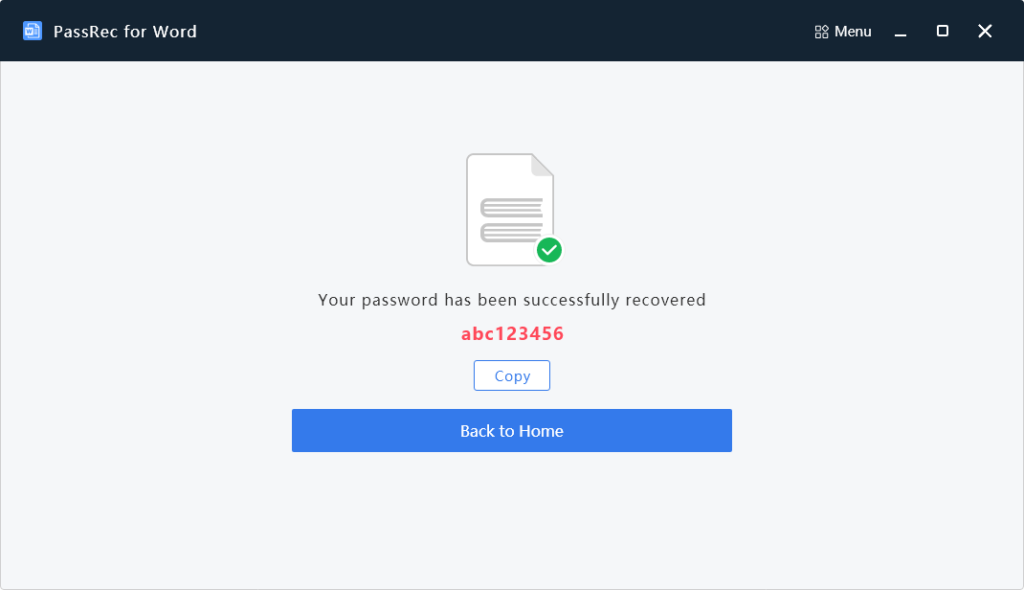 Chances Of Recovery
If you are having a hard time recovering the MS Word password, we are here to offer you a free password recovery. We can search for your lost password through our database of 3 million popular passwords. It can be done quickly and has been successful in 22% of cases.
We can also go for a vast database which is consists of more than 20 billion passwords that will increase our chances of recovery. Well, this service is not for free, but the success rate is about 61%. It also depends on the MS word version. As such, the 2003 model will take few minutes for password recovery. While the latest version might be processed for more than 24 hours.
Process To Unlock/Remove Password
If you forgot the password of your word file, then it's a severe problem. You know that the entire file is encrypted with an attested cryptographic algorithm. So, getting the original password is the only way to open a document. If you see ads like "100% guaranteed to hack the word file", beware it's a fraud.
The only hope for a successful attempt is that your password must be easy to guess. Then the computer can search it from billions of similar passwords. We can assure you that this whole process will take no more than 24 hours.
You just have to upload your file to our page then click on the further instructions. In addition, weak password recovery is free of cost, but you have to pay for strong passwords because it takes 6 to 24 hours for processing.
In case if you want to remove the password after recovering it through our website, then just follow the steps given below:
Open your word document with the recovered password and choose info.
Click on the "protect document" and then on "encrypt with password."
Remove the previous password from the text box and then tap to save it.
Systematic Way Of Password Searching
We use a systematic way to search through all password variants according to their specific mask. A proper mask is needed because there will be no point in going through all possibilities if you won't get the desired results.
Let's suppose if you begin to find a 10-character password without any lead, then it will take years because there are 67 quintillion combinations of passwords. So, it will be better if you know the correct character set as it will make our work easy and quick. Not only that, you have to pay only after the job is done.
Best Word Password Recovery Tools
Many people nowadays opt to use MS Word for creating their important documents. It is pretty common to protect important documents using a password.
What if you forget the MS Word password?
Unfortunately, if you tend to forget your protected MS Word document password, you won't be able to access your documents.
It is quite frustrating, and no one would want to lose important data. Luckily, you can recover your Word Document password using a Word Password Recovery tool.
We'll highlight some of the most reliable tools to get your job done.
Part 1: Top 6 Best MS Word Password Recovery tools
PassFab for Word
If you're looking to recover a Word password, PassFab for Word can be a massive option for you. Despite having advanced and professional features, this tool makes the password recovery procedure pretty easy.
Features
It doesn't come with a steep learning curve.
PassFab for Word supports all Windows OS.
It allows you to recover your password using three simple modes.
Pros
High recovery rate
No compatibility issue
Cons
The free version lacks prominent features.
Passper for Word
Passper for Word is another spectacular tool to recover your MS Word password if you've unintentionally forgotten it.
The tool comes with three password attack modes to get your job done. Apart from recovering passwords, it also helps you remove restrictions on Word documents.
Features
You only need to follow three simple steps to recover your Word password.
It supports all the MS Word document versions, including the 2019 version.
Pros
Offers fast speed
Compatible with all Windows OS version
Cons
It takes too much storage for installation
iSunshare Word Password Genius
People looking for an easy-to-use tool to receiver a Word document password can take the services of iSunshare Word Password Genious.
Apart from supporting all the versions of MS Word, you can also use this tool in every Windows OS version.
Moreover, GPU acceleration support and Smart Recovery Algorithm make the recovery process flawless.
Features
It allows you to resume the progress due to network interruption from where you left the progress.
The SMART recovery algorithm saves a lot of your serving your purpose.
Pros
Easy to use
It comes with fast operation
High success rate
Cons
Word Password Recovery Master
Using Word Password Recovery Master, you can recover your lost password in a couple of clicks. All you need to do is import your Word file into the tool's interface. Later, you'll be able to restore your password with minimal effort.
Features
It is compatible with all Word document versions, from Word 97 version to the 2013 version.
Using this tool, you can simultaneously restore the password of multiple Word files.
It comes with a powerful password serve, making your job a lot easier than you think.
Pros
Works fairly fast
Cracks more than one document at a time
Cons
It doesn't support the latest Word document version
Free Word and Excel Password Recovery Wizard
If you're looking for a free tool to restore protected Word document passwords, you've got the massive tool in the shape of Free Word and Excel Password Recovery Wizard.
It uses dictionary attacks and brute force to recover your password. Even though the tool takes more time than any other tool, it is still an appropriate option if you're to use it for not-so-important files.
Features
It is completely free to use.
The tool uses dictionary attacks and brute force methods to recover your password.
Pros
Free to use
It doesn't cover a lot of memory space.
Cons
It takes more time to serve your purpose
GuaWord
GuaWord is also a reliable tool for recovering MS Word passwords. However, users can find it difficult to understand the tool's interface appropriately, but it still allows you to put things in order after learning about this tool.
Features
Using this tool, you'll enjoy a 100% success rate.
GuaWord tends to decrypt your documents with known passwords.
Pros
Free to use
100% success rate
Works pretty quickly
Cons
Part 2: TOP 2 Online MS Word password recovery tool
If you don't want to download the Word password recovery tools, you can use online tools to get your job done.
Here's the list of two prominent online tools.
LostMyPass MS Word Password Recovery Online
It is an online tool that allows you to recover the password of any protected MS Word file you want. You'll get a pretty intuitive user interface using this particular tool. Moreover, it can simply recover your password without knowing what your password is.
Features
You can recover your forgotten MS Word Password by visiting the tool's official website.
It allows you to remove passwords from any Word document file.
Pros
You don't need to download any software to get your job done.
It works fairly fast.
The free plans are appropriate for basic work.
Cons
The tool comes with a low success rate.
Word Password Recovery Online
Word Password Recovery Online tool is another wonderful online tool to restore your MS Word document password. The best thing about this particular tool is its high speed and intuitive user interface.
Using this tool, you can simultaneously recover the password of multiple MS Word files.
Features
It works faster than you expect.
You can't recover the password of the latest MS Word document version.
It comes with 40-bit keys that make sure it works faster than usual.
Pros
Easy to use
No download required
Cons
Conclusion
If you're to recover your Word document password, you can take the notes from this article as we have mentioned the best software and online tools to fix your issue. All the tools we've revealed in this article are worth your attention and time.
You can select any tool mentioned above and install it on your computer system. However, if you won't download a tool, you can take the services of an online tool to fix your issue.