RAR Password Recovery Online
Best Online RARWIN/RAR password cracker that is capable of unlocking RAR archive protected by passwords you lost or forgot.
How to recover RAR file Password?
Step 1: Upload RAR files.
Drag the RAR file you want to unlock, and drop it to the blank space on the left side of the home screen.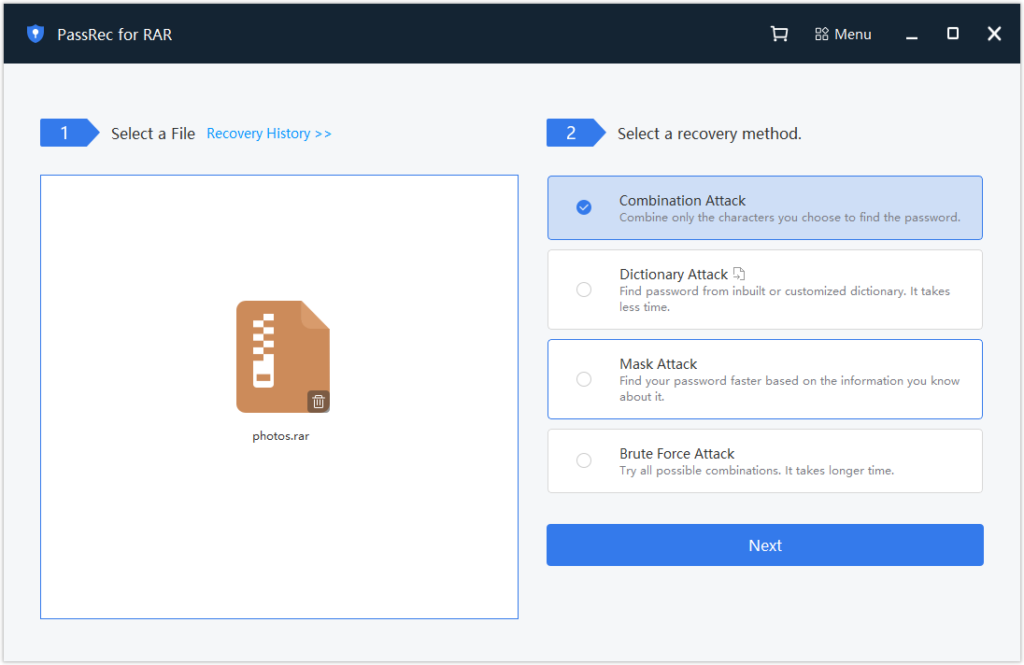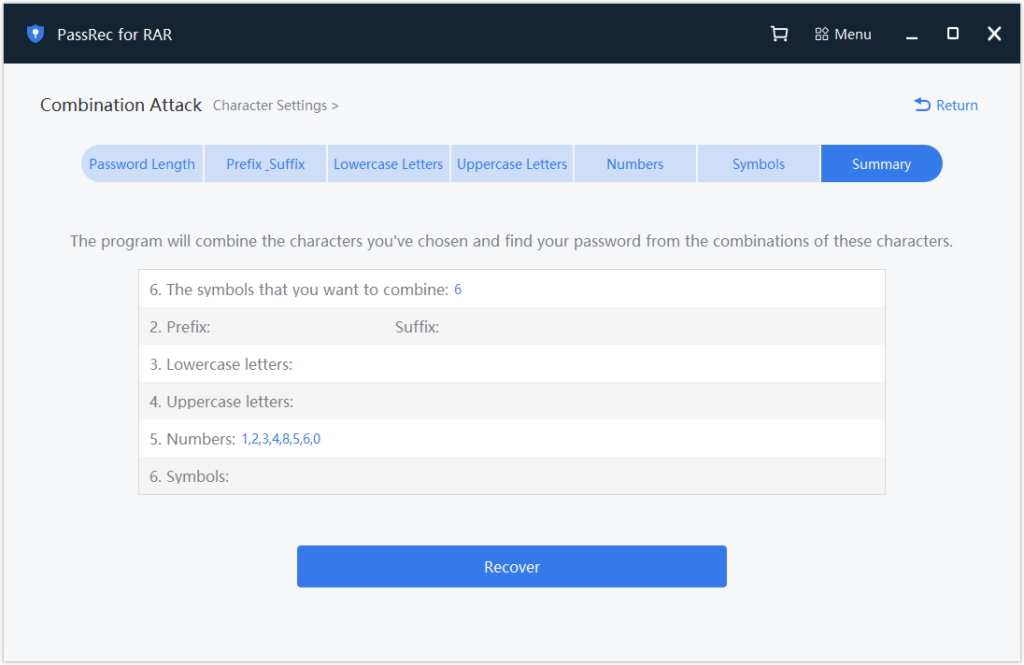 Step 2: Password recovery settings.
after choosing the method and click Next, you will have to provide some clues about the password that you know: the length of the password, prefix/suffix, lowercase/uppercase letters, numbers, and symbols.
Step 3: Wait for the recovery to complete.
Password recovery will take minutes, or even hours, totally depending on how many clues you have provided, and how complicated your password is.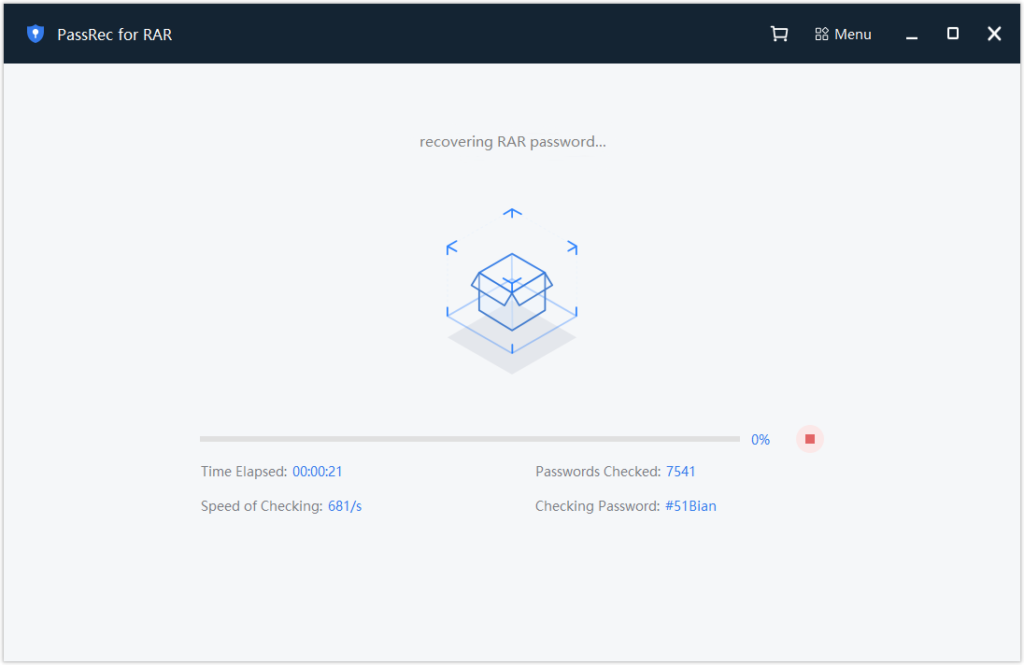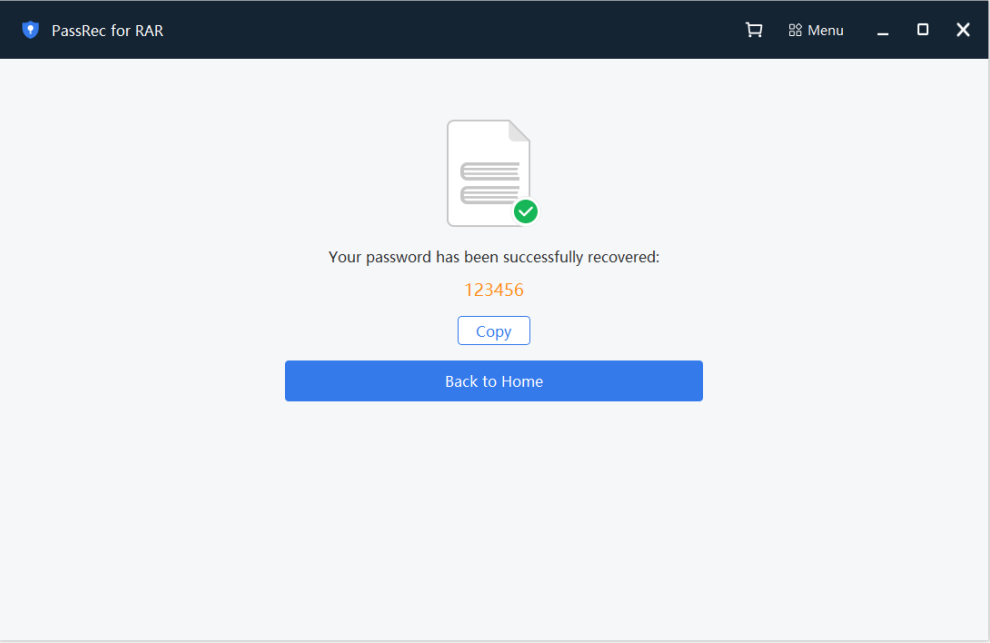 Step 4: Successful recovery.
If PassRec successfully unlocks your password, you will see this screen notifying you the password of your file.

How Do We Recover RAR Password?
Chances of Recovery
To regain access to your lost or forgotten passwords, you can use one of the two methods. First is a weak password recovery procedure. In this method, there is a 22% chance of your RAR password restoration. You guess the original password and search it through 3 million database versions. Although the possibility of recovery is relatively low, it can often be worth the try!

Secondly, there comes strong password restoration. The success chances are higher up to 61%. However, this process may take time, depending on how complex your order is. While it may take time, brute force is the best option for your passwords for a guaranteed recovery.
Unlock Password Of RAR File Online
You must have created a RAR archive to hide your precious photos and secure them with a password. So, no one can open the file unless they know the correct password. In the worst case, if you forget the password to your RAR archive, then out of reflex, you will go through the internet and search for software to recover the password.
You might find a particular program, but it will work very slowly. Once again, the only way is that you remember the original password or work to find it. Don't worry! Our website is created for recovering passwords of such files. Just go and upload the file on the site, then follow further instructions.
Remove Password From RAR archive
If you know the password, then the process is easy. However, in reality, you can't exclude password protection from the RAR file, which is already protected with a WinRAR program. Although, you can separate the file from the folder and then add all the files to a new file with no password.
On the other hand, if you don't know the password, you have to restore it first. After doing it, you can upload the file on the main page for password recovery and wait until the work is completed.
Recover RAR File Without Password
WinRAR is an excellent program, and many people use this archive for personal and official purposes. However, if you accidentally lost the password to your RAR archive, there is nothing to worry about.
We have the solution to your problem. Just transfer the encrypted document on the RAR password recovery page and then follow the steps on the screen. Now you might be wondering about the payment. Well, you only have to pay the money after the work is done.
iFindPass.com Legal Notes
You acknowledge that you will not violate any rules or regulations or invasion of privacy of nation and community by using services provided at iFindPass.com. Moreover, you agree to the terms that you are the copyright holder of the file you are willing to recover or do on behalf of the copyright holder.
Frequently Asked Questions
1- How is iFindpass the best solution for my password-protected files?
We ensure that you can recover your password in the most suitable manner possible by providing our services through a faster and more efficient cluster of computers than any ordinary computer available.
As a result, we provide you with your desired outcome within hours that any computer might take days to do so. Moreover, you are liable to pay only after a successful recovery.
2- Does the recovery procedure need any additional programs or software?
No, this site requires no additional programs or software. Hence, it does all the complex tasks independently due to the remarkable tools this site features. You just have to upload your file and wait for your forgotten or lost password to be restored.
What's more, is that you do not even have to register with us to do so. Once you provide us with your email, we will notify you the moment your work gets completed.
3- Can this site remove the password from my file?
You may remove the password protection by yourself if you know the password already. However, if you have forgotten the password, you must first unlock your document to recover it. In addition, if you wish to remove the password from a PDF file, you are advised to use the PDF unlock tool on our site, which is ABSOLUTELY FREE.
Hence, you don't need to worry. iFindPass is reliable with your documents regarding password removal, retrieval, or unlocking of your files.
4- How long does the entire password recovery procedure take?
The time taken by the entire password recovery procedure is determined by the type of your order. It might take from as little as just a few minutes up to 24 hours at most. For a brute force attack type, the time taken is determined by the total number of feasible variants specified separately.
Moreover, your file type also partly determines the time taken for your password recovery procedure to complete.
These People Trust Us

I highly recommend this site for unlocking a protected RAR file. It works fast and had no harm to my file.
– Anastasia

I was bit amazed to see a site recover my RAR files passwords within a few minutes. I used their brute force to recover my password and succeeded. This site is easy to use and quite secure in terms of data losses. I had to pay after recovery. Recommended!
– Alexander

The paid version and brute force are very efficient in work. I think brute force is much reliable to get your password recovered.
– Luther

I will recommend this site to all because of the standard they have set to serve their users. Happy customer here!
– Gloria
Best RAR Password Unlockers
Imagine you have a few important files in a folder. You create a RAR file and protect it using a password. After some time, you don't remember the file's password, and you need to unlock it without losing any data. You try to find the best WINRAR password unlocker online, and you get tons of results.
Isn't it difficult to find a suitable tool to unlock the password when you have dozens of them?
Of course, it is. If you are in this situation for the first time, you will never have any idea which tool can work according to your expectations.
Therefore, we are here to help you out. We have picked some excellent RAR password unlockers for you. So, you can easily pick the best one according to your requirements. We will tell you about each tool and discuss the methods to use them.
1) Passper for RAR
Passper is the first recommendation for beginners. It is a beginner-friendly and simple tool that anyone can use to recover RAR passwords without any hassle. It is perfect for complex passwords and ensures 100% data security.
The tool has four methods to recover the password, and you can pick the best one to reduce the recovery time. In addition, you can also pause the recovery stage and resume it later whenever you want.
Whether you know a part of the password or not, you can recover it. Even if someone else has locked the file, you can unlock it using Passper.
Passper works according to your PC. It has an advanced algorithm that makes the process faster. If you have a multicore PC and a powerful GPU, the speed of the process is accelerated.
Steps to Recover RAR Files Using Passper
Step 1: Download the tool. Install it on your computer; it will hardly take a few seconds.
Step 2: Open the app, and you will see the main interface. First, you need to select a suitable file for the purpose. Click on Select a File and choose the encrypted file from your computer.
Step 3: Now, you need to select a recovery method. There are four methods available, and you can pick any of them. Start from the top to the bottom or select a suitable one to save time.
Step 4: Click on Next. If the recovery method needs any information, provide it. After that, the tool will start the recovery process.
2) PassFab for RAR
PassFab is a popular WinRAR and RAR unlocking tool. It is known for its fast algorithm that shortens the overall recovery time. Along with that, your data remain unharmed.
There are three recovery methods offered by PassFab. These methods offer exceptional results regardless of the complexity and type of compression.
Steps to Recover RAR Password Using PassFab:
Step 1: Download PassFab and install it on your computer.
Step 2: After installation, open it on your computer. You will see a simple interface. First, you need to select a file. Click on Add and select an encrypted RAR file from your computer.
Step 3: You will see three methods of recovery. Select any of the suitable ones. Click on Settings to get into more settings. You can import a dictionary or provide the relevant information about the password.
Step 4: Click on the Start button. The process will take time, according to the complexity of your password. However, your password will be recovered.
3) Free RAR Password Recovery
This is another amazing tool, but don't get confused by its name; it is a paid tool. But the cost is quite reasonable; you get the lifetime license for $19.95. It works on all RAR files irrespective of the tool from which the file was created. It works perfectly well and offers optimal results.
It has three modes, similar to other tools, to recover your RAR password. However, all methods recover the password without further compression or decompression of the files.
Steps to Recover RAR Password:
Step 1: Download the tool on your computer. There is no trial version, so you need to purchase it to use it on your file.
Step 2: Open the tool. At the first stage, you need to select the RAR file. Click on Open and select the file. For the next step, click on Next.
Step 3: Now, you need to select the desired recovery method. Click on any method and then click on its Settings. After that, click on Start.
Step 4: The tool will start the recovery process. You will see the recovered password on the screen once the process is complete.
4) RAR Password Refixer by iSumsoft
This is the last RAR password recovery tool on our list. It has got a powerful and fast algorithm to recover your lost password. It is compatible with all types of RAR files that are created from different software programs.
The algorithm works faster on high-end PCs and ensures quick recovery of the password without any data loss. You can also allocate memory to the program for faster operation.
The tool is available for $19.95, which is quite reasonable. You get a lifetime license with technical support and updates.
Steps to Recover Password:
Step 1: Download the tool on your computer. After downloading, install it.
Step 2: Open the tool. You will have the main interface. Click on the Open button to select a file from the computer.
Step 3: Click on Start. The recovery tool will recover the password after completing the process.