Online Excel Password Recovery
iFindPass can recover passwords for any version of encrypted MS Office Excel files (xls & xlsx). For most encrypted documents, we can recover the password in a few minutes.
How to Recover Excel Password?
Step 1: Download and install PassRec for Excel.
You will see the screen below after launching PassRec for Excel. Click Recover Passwords to continue recovering password from Excel files.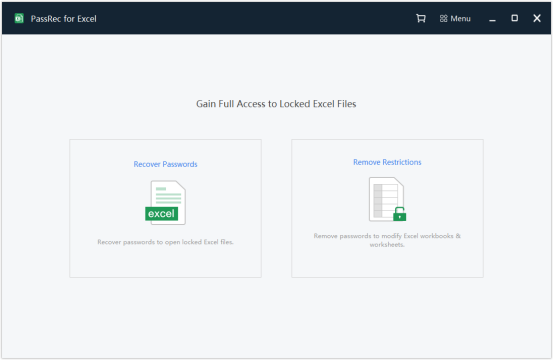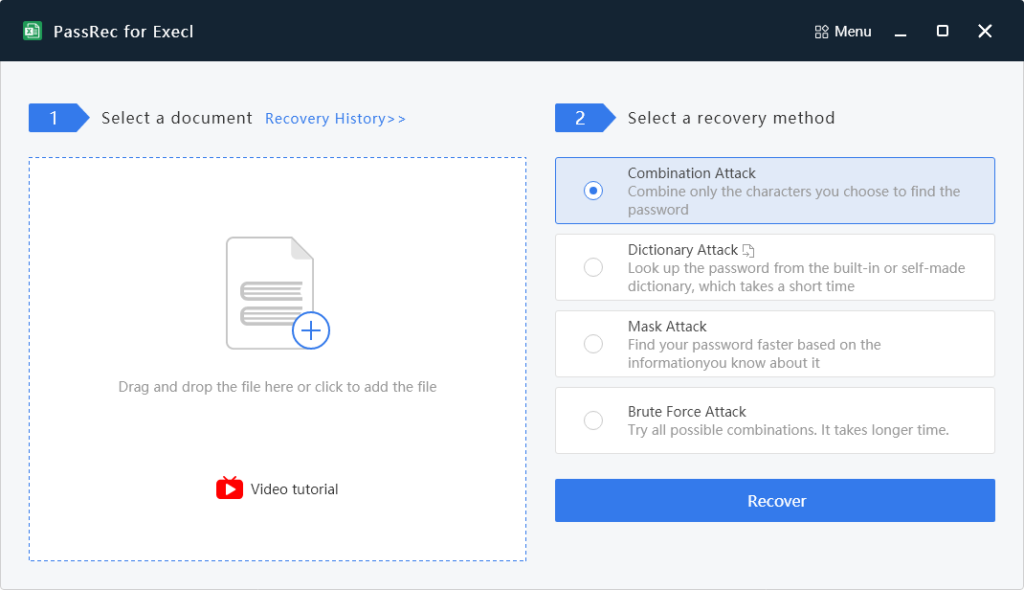 Step 2: Locate the Excel file and select a recovery method.
On the next screen, upload the Excel file where you want to recover password to the left, and choose a password recovery method from the list on the right.
Step 3: password recovery settings.
Confirm some information about the Excel password on the next screens to narrow down the password range for the program to recover the Excel password more quickly.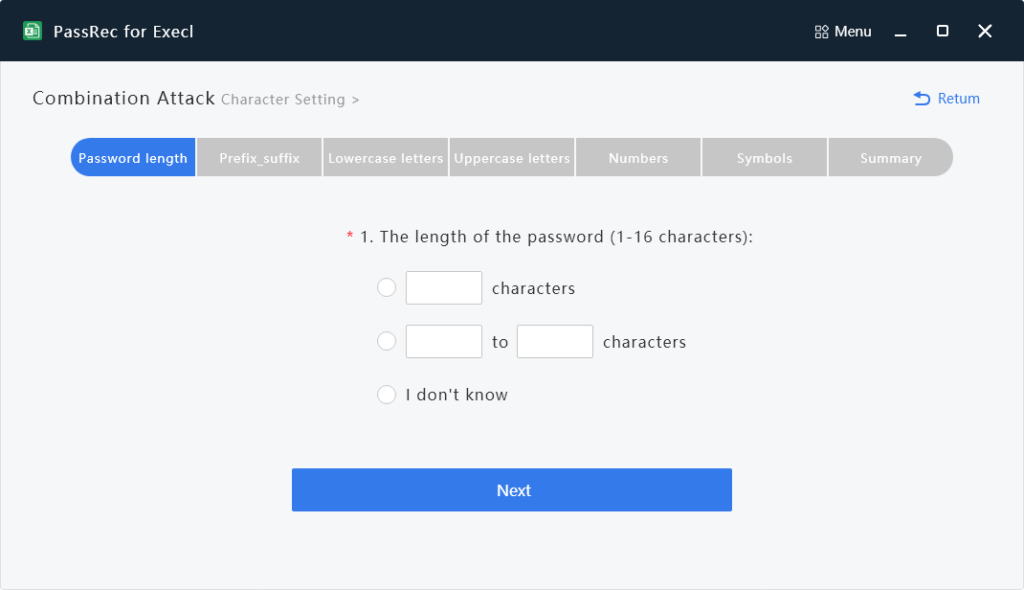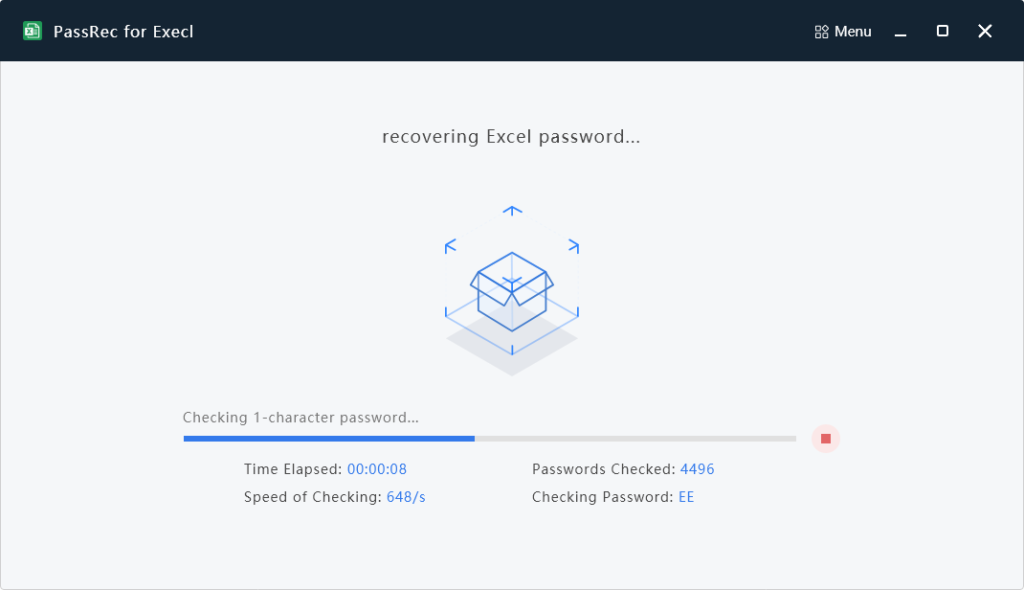 Step 4: Wait for the program to complete the recovery process.
The program will start searching password from the database and matching it with the ones you want to recover.
Step 5: Successful recovery.
When the recovery process is completed, you will see the recovered Excel password displayed on the screen.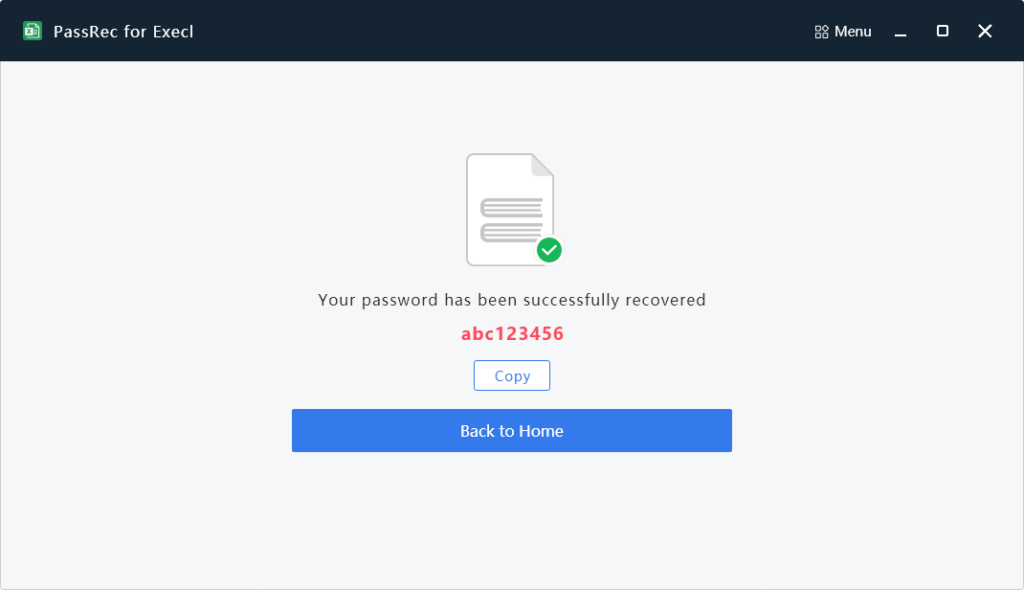 Chances Of Recovery
To recover a weak password, we have collected a database of the most popular passwords. People repeatedly choose the same pattern of common passwords that makes the search easy. Unfortunately, such passwords also make the files vulnerable to hacking attacks.
However, the success rate of recovering the weak password is only 22%, but we must say it's worth trying. If the attack was unsuccessful, then you can go for another password database. It cost money, but the chances of recovery are pretty high.
Process To Unprotect An Excel File
Do you want to make changes to the excel sheet but don't know the password? Well, we are here for you. We will remove the password in a matter of seconds because recovering the password is not an option here.
In most cases, clients also want the same thing. Thus, to remove the owner's protection, you can go to the MS excel page and upload your file. Then instantly, you will be given an option to download the unlocked excel file. This process is not only fast but also free of cost.
How To Retrieve If You Forgot The Password Of Excel Sheet?
If people have chosen a complicated password for protection, they might have difficulty retrieving it. Once you enter the password, several keys will be calculated, and the entire document will be encrypted with an algorithm. Therefore, it will be a rather complicated process unless you know the original password.
The good news is that we have a database of billions of possible variants that will recover the password of your excel file. So you have to just go on the MS excel recovery page and tap on the buttons according to instructions. If you are lucky, then you will get the lost password in 3 minutes. Otherwise, it will take some time to restore the original password.
Pay After The Successful Attempt
Keep in mind that we accept your request without any pre-payment, and you will only get the invoice when the job is completed. Of course, the criteria of payment depend on the type of password you want to recover. Before payment, we can also email you a fragment of the opened document as proof. So that you will be satisfied with our service.
These People Trust Us

I used a free trial by looking at its success rate, and luckily, I succeeded. I got my password easily without cost.
– Augustus

Their work is fully satisfying. I luckily got my password back in five to six minutes. Their site is very quick in responding.
– Isabella

I was much satisfied with getting the work done and then pay for it policy as I really doubt such technical stuff. Their features are reliable as compared to various online sites, so from my experience, I will recommend it.
– Claude

I will recommend this site to recover your excel file because of the efficiency of its paid version. The database technology is very strong with many different variants, helpful in recovering the password real quick.
– Isaac
6 Best Password Removal and Recovery Tools for Excel
Forgetting an Excel password can lock you out of your worksheets and stop you from reading or modifying them. This situation gets very annoying when you urgently need an Excel file, and there's a big lock icon waiting for you. Moreover, when you download an Excel file from the internet or get it from another source, it being locked is a big trouble.
In both cases, you need a good Excel password removal or recovery tool. This tool will help you surpass content restrictions and read or edit the Excel file in question. Therefore, we have listed the best Excel password removal and recovery tools to ease this quest for you. If you're struggling with locked Excel sheets, read on to know your options.
Passper for Excel
Passper is an advanced Excel password recovery and restriction removal tool designed to make this task easier for you. This software removes restrictions from read-only Excel sheets and recovers your forgotten passwords. Since Passper works on an advanced algorithm, you can trust it for your Excel password recovery task. This fast and reliable tool is best for personal and professional Excel-related tasks.
Passper uses four attack modes to surpass Excel passwords of different complexity levels. You can start with Passper's combination mode to recover a password, and if it doesn't work, you can move onto a more robust mode. This Excel password excel recovery tool has an impressive success rate, so you can trust it without much contemplation.
SmartKey Excel Password Recovery
If you want to unlock an Excel sheet without decoding its password, SmartKey is a good solution. The Excel unlocking feature is helpful when you want to read an Excel sheet without risking its security and contents. Since some Excel password removal tools can risk your data, this unlocking tool is a good alternative for user-sensitive files. You can quickly install, understand, and run this software to unlock an Excel sheet and study it.
The SmartKey tool's user-friendly interface and fast loading speed make it a reliable choice for busy people. If you don't want to hassle with a complicated algorithm while opening a locked file, SmartKey is your best buddy. We admire this tool's quick and reliable working, something you won't find in every tool. SmartKey is also compatible with most Excel versions so you won't have difficulty using it.
Passfab for Excel
Removing difficult passwords from Excel sheets is difficult but not when you have Passfab to the rescue. This robust Excel password removal tool is widely admired because of its fast and uninterrupted working. You won't have to deal with slow-loading pages or complex algorithms while working with Passfab; it's designed to make things easier, not tougher.
This software comes with three attack modes to ensure you don't struggle in the password removal phase, and quickly get done with this job. You can pick from the brute, dictionary, and mask attack modes while running a password removal haul. If the target password is tough or long, you'll need the brute attack mode, otherwise, the first two also work fine. Although this password-removing tool has a slow loading speed, its user-friendly interface makes things easier.
iSunshare Excel Password Remover
When surpassing an Excel sheet's opening password feels difficult, iSunshare enters the scene with all its glory. You can quickly remove your Excel sheets opening password with this tool and study them. But you won't be able to modify or edit locked Excel files with this software. No matter how long or difficult an Excel sheet's opening password is, iSunshare can unlock it.
iSunshare is designed for shared computers and a professional atmosphere where colleagues often require access to each other's content. But if someone has locked certain Excel files, you can use this tool to open them. You'll like this tool's working and loading speed, something you surely expect while fiddling with stuck passwords.
Excel Password Recovery Master
If we talk about credible password recovery tools, Excel password recovery master will always be in the front row. This software is designed to ensure you have uninterrupted access to Excel files, regardless of their complexity and type. Excel password recovery master supports all major file-related passwords, ensuring you never struggle with unavailable content.
This tool's advanced password removal mode has up to a 90% success rate, making it a top-tier choice. You can enjoy a one-click password-removing experience with this software and maintain hassle-free access across all Excel versions. Since this tool supports all languages and password types, it's indeed a reliable contender. Although you'll need some time to understand how this software's working, it's worth the effort.
Accent Excel Password Recovery
Accent Office password removal tool is useful for your Excel access-related tasks. If you often struggle with lost and forgotten Office passwords, this all-in-one tool is your buddy. You can unlock restricted Excel sheets, recover lost passwords, and enjoy uninterrupted access to different file formats with this tool. We like this software's user-friendly working and fast loading speed, which you don't find everywhere.
The Accent password removal tool also features three attack modes to maintain a steady success rate. You can try these modes one by one to make your password-removing haul a success and open a locked file within seconds. This tool's simple interface is ideal for everyone; you don't need much practice to work with it. Download, choose an attack mode, and unlock the Excel file you were stressing over. No matter how complicated an Excel password is, this tool stands a good chance of opening it.
Summing It Up
Lost and unknown passwords are frustrating. When you want to quickly glance at an Excel sheet, that lock icon can put you off. But luckily, there are multiple Excel password removal and recovery tools you can try in such a situation. The six tools we've explained are reliable and effective for Excel password recovery and removal. However, none of these tools assures a 100% success rate; you'll have to try and see which one works for you.